Each year, Huki Team participated in RED (Renew, Energize and Donate) Day which is a Keller Williams Realty service initiative dedicated to improving our local communities. All Keller Williams Realty associates in the United States and Canada were asked to donate their time in May, to renew and energize aspects of their local communities.
Below is a summary of the recent RED Day events we have coordinated to help our Kauai Community.
RED Day 2019:
Charity Golf Tournament at Hokuala to benefit YWCA (over $10,000 Raised)
To read more, visit the Garden Island article "Kauai Keller Williams group generates $10,000" from Dennis Fujimoto.
RED Day 2020:
Kauai Elderly Affairs Charity Food Drive for our Kapuna (over $7,000 raised)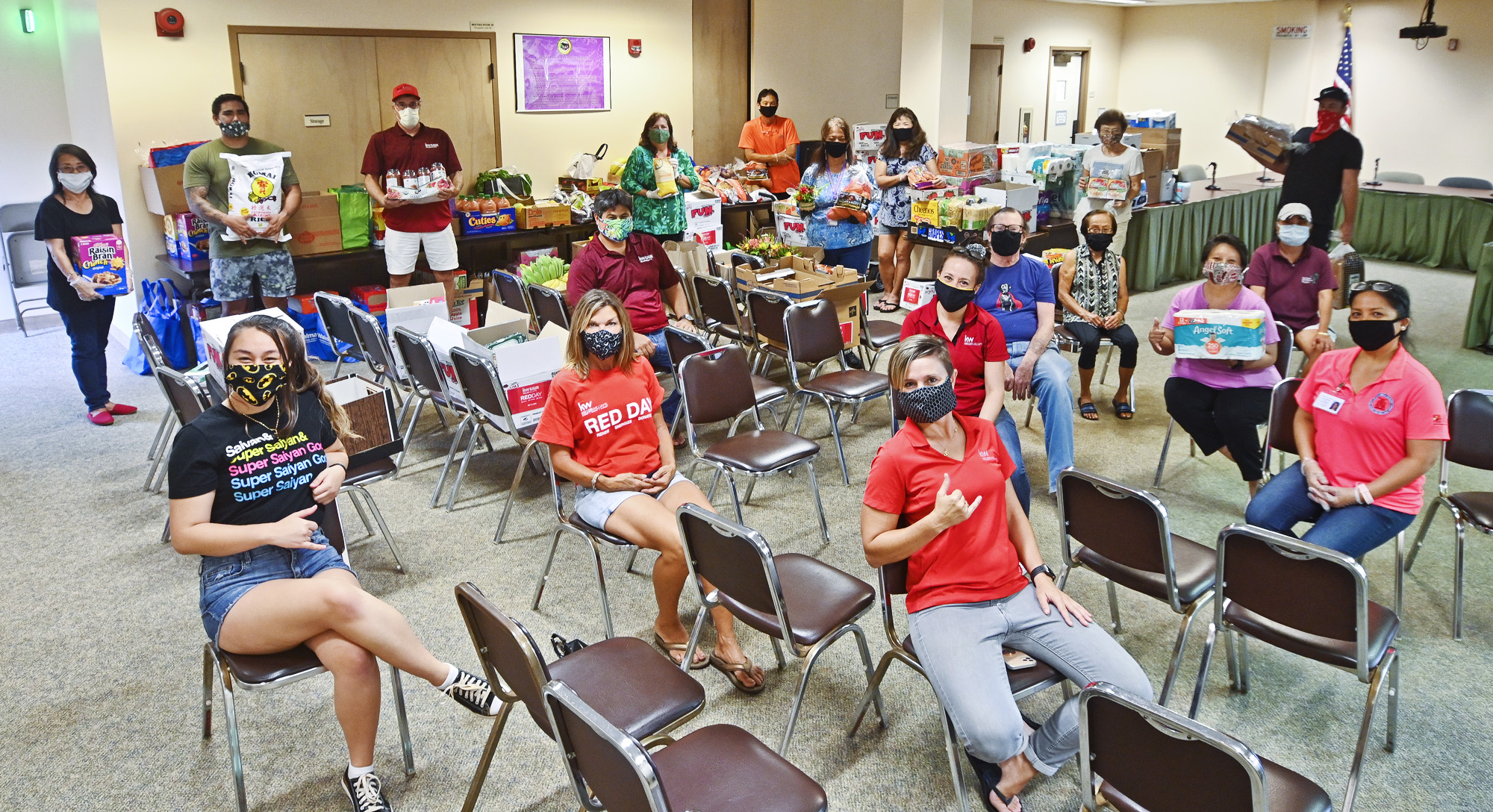 During a time of uncertainty with COVID-19, Huki Team joined forces with Kauai Elderly Affairs to help our Kupuna. We were blessed to have an outpouring from our community and were able to raise $7,000 dollars to fill over 80 full bags of groceries to help our Kupuna.
Donna Olivas-Kaohi, the RSVP Director from Kauai Elderly Affairs, followed up with us to share the joy received from the Kupuna that benefited from the RED Day Food Drive.
"On behalf of the Agency on Elderly Affairs, Kauai RSVP staff and Advisory Council, a fond mahalo for thinking of our kupuna community for your Keller William's Red Day Project 2020. We were literally speechless at the amount of items plus the monetary donations that your staff came to deliver on May 14th, 2020. Please relay our heartfelt thanks and gratitude, as with your very generous donation we were able to assemble 200+ bags filled to the brim and more! The kupuna were so elated to receive their bag and those who received the floral arrangements were so tickled to receive such a beautiful surprise. We decided to present those floral arrangements to our more "seasoned" volunteers who are staying at home due to the COVID pandemic; they were so appreciative.
One kupuna who received her bag was so overjoyed, she said "This is like Christmas!" Another called us soon after receiving her bag stating she felt like when she was a child looking through a goodie bag to see what surprises she would find and kept going through it again and again finding more surprises, she was so happy with her Cup o' Noodle as she hadn't had one in years! A kupuna literally jumped up and down saying "is this all for me?!" And yet another was literally in tears as he expressed his gratitude to the staff who delivered and said "thank you for saving my life". We received numerous emails, phone calls, verbal thank you's, an abundance of smiles and God bless you's. What a blessing KW Red Day has been for our kupuna.
Once again, thank you. We are so humbled by your generosity; please express our sincere thanks to your KW Associates, friends and family who so generously gave."
To read more, visit the Garden Island article "Kapuna Will Soon Be seeing 'RED'" from Dennis Fujimoto (photo credit: Dennis Fujimoto).
RED Day 2021:
Fundraiser to benefit Nourish Kauai to bring at-risk Individuals and Local Farmers Together (over $5,400 raised)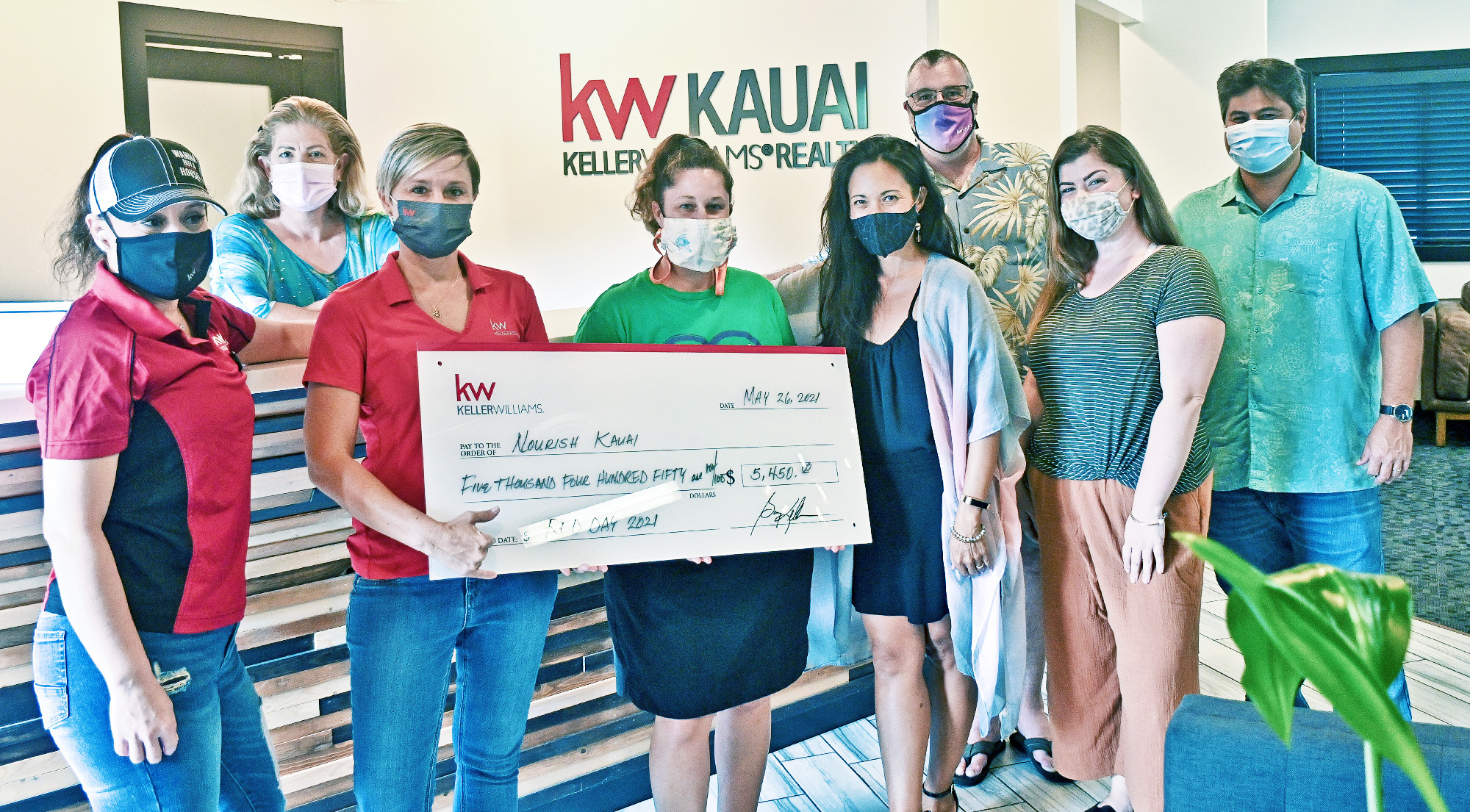 As we worked together to determine the best way to serve our community with our RED Day event in 2021, our team made the choice to hold a socially distanced fundraiser to benefit Nourish Kauai to feed our local community. We thought this would be the perfect charity to make the greatest impact on our island. Nourish Kauai works with local farmers to provide fresh produce to at-risk individuals and families. Since the outbreak of COVID-19, Nourish Kauai has provided over 50,000 meals all over our island.
Because of the generous donations from our community and the effort of our agents, we were able to raise over $5,400 to give to Nourish Kauai and support our local community.
To read more, visit the Garden Island article "Realtors Help Nourish Kauai" from Dennis Fujimoto (photo credit: Dennis Fujimoto).
Want to find out more?
If you are a resident of Kauai and would like to participate in the next RED Day, reach out to us at info@HukiTeam.com so we can keep you in the loop regarding our next RED Day event.
If you are a Keller Williams associate please log in to the KW Intranet for more information about KW Red Day. If you would like further information on how you can help in your area or have any other questions please email redday@kw.com.